There's no doubt that women are a force to be reckoned with; we can do it all. We run major companies, have beautiful families and still find time to fit in pilates and yoga. But why is it that although women make up the vast majority of business owners, consistently outnumber men in higher education and generally kick ass, the journey to becoming a powerhouse is categorically more grueling? The amazing women behind the upcoming documentary SheMeansBusiness explore that very question by following female entrepreneurs through their successes, failures and struggles.
Q&A with Jacqueline Baptist
1. What was the motivation for the documentary SheMeansBusiness?
Our motivation is to get the voice of women entrepreneurs out on a broader scale and bring their incredible journeys to a wide audience. There are many organizations working with women entrepreneurs and doing an incredible job (e.g. Springboard , NAWBO, Women 2.0, NCRW, WIPP and more). We want to contribute by telling their stories. Complex, authentic human struggles are universal – everyone can relate to a person trying to build something to last. In telling these stories, we hope to increase the attention paid to women entrepreneurs. We have no intention of reinventing any wheels, we want to support the good work that exists today in the community and build additional momentum for change. We believe that the more we spread these stories, the faster change will occur: more recognition of women as builders of great businesses and incredible entrepreneurs. Women deserve the same access to capital and chances to build futures as our male counterparts. Hopefully our documentary will increase the percentage of venture funds and amounts of investment funding going to women-owned businesses..
2. Statistics say that women make up 40% of privately held businesses in the U.S. yet, the path is much harder, why do you feel that's the case?
Women do face a harder path; there is no doubt about it. One of the most prevalent issues is in raising finance. Many women entrepreneurs start out with much less than their male counterparts, (almost a third less capital) and raise less of it as they grow their business. This helps explain why the average women-owned business has 25% lower revenue than the typical male-owned firm in the same industry. (Inc, 2012).
Why is this? I think some of it is the lack of role models which is really key for all of us, but it is also women who are sometimes afraid to ask or to aim high. Successful women entrepreneurs are the ones who step up to the plate and ask for what they want. They know that a male counterpart will do exactly the same thing and the worst that can happen is someone says 'No.' Look at Sara Blakely, she did not stop when people said 'No' to her; she kept going. The rest of us need to do the same.
It is also important that we fully understand and own our power as women, moms, and wives – after all we are the stewards of most households around the world, and we have the power and control over the majority of household wallets. We are the consumers online and in the stores; there is no reason we can't build and/or run the world's largest consumer products companies or retail stores.
I do feel that things are beginning to change. We are in an era of Gilt, Spanx, Learnvest, Slideshare, Levo League and others. The models are changing and for the better. More women are breaking through and they are role models for the rest of us, young or old.
3. What would you say to the stereotype that believe successful women are often viewed as cold or uninterested in families and relationships?
That is a complete myth. Women leaders have always had families, this is nothing new. Many prominent CEO's all have husbands and families. Here are a few:
i. Indra Nooyi, CEO of Pepsi, has two daughters and a husband. She talks about them all the time and talks about the choices she makes every day to prioritize her family.


ii. Meg Whitman, the CEO of HP, has two adult sons but throughout her career, she was raising her children while building her career.
iii. Ellen Alemany, CEO, Chairman and CFO of Citizens Financial Group, has 2 daughters, and a son.
iv. Angela Braly, President and CEO of Wellpoint, has three teenage kids.
v. Ursula Burns, Chairman and CEO of Xerox, has two kids: a boy and girl.
vi. Cynthia Carroll, CEO of Anglo American PLC, has four children.
vii. Katherine Krill, President, CEO and Director of Ann Taylor, has twin boys.
viii. Sheryl Sandberg, COO of Facebook, has a family and on numerous occasions discussed how she and her husband manage the daily childcare duties that they share: driving the kids to school, the parent teacher conferences, etc.
All these women are CEO's, business leaders, moms and wives as well as run companies worth millions (if not billions) of dollars. Undoubtedly, they face tremendous challenges balancing their work and family life and many are beginning to talk about this more openly, but they are also making it work.
4. As a successful businesswoman has that been your experience? Did you find it difficult to break through the glass ceiling?
Honestly, it is not easy. As a woman, I struggle as do my counterparts but in general, any success I have has to do with passion, big bold goals, aiming high, building a good strategy and securing the right sponsors. This is what works for me. Take this documentary, as a team we face the challenge of raising funding to turn our dream into a reality. It is a steep climb, but we began reaching out to people and the support we have received from major women around the US is amazing. Now we are hoping to expand our reach to the entire world of women entrepreneurs and their supporters, to ask them to support our Kickstarter campaign and build the funds needed to create this film.
http://www.kickstarter.com/projects/1118297434/she-means-business
5. Tell us about the Kickstart Campaign, what do you hope to gain from it?
We hope to raise a substantial portion of our funding through the participation of our community. Kickstarter is a mechanism for supporters of a film to put their money where their hearts are and build a project from the ground up. We are reaching out to the potential audience for the film and asking them to support, even with only a few dollars, to make this project real. We are asking for $200,000 from the community of women entrepreneurs, investors, supporters, family, and more. Kickstarter.com is an all-or-nothing model, so supporters pledge an amount and it is charged if and only if She Means Busienss gets the full amount of pledges. If we don't reach $200,000, we get nothing.
So we are asking the community to support and tell everyone they know. By doing that, it will enable us to expand beyond an idea into a film. It is also a way to build a community for the film, so we can keep all our supporters informed about the film's progress, show footage from interviews, release exclusive web videos, etc.
6. What message would you like viewers of the film to walk away with?
Women make great entrepreneurs – the verdict is out. An analysis performed by the Kauffman Foundation showed that women are actually more capital-efficient than men. Babson's Global Entrepreneurship Monitor found that women-led high-tech startups have lower failure rates than those led by men. Other research has shown that venture-backed companies run by women have annual revenues 12 percent higher than those run by men, and that organizations that are the most inclusive of women in top management positions achieve a 35% higher return on equity and 34% higher total return to shareholders. Women are bold and funny and capable and strange and human in all the wonderful ways people are human, not just their gender. Women deserve an equal chance to create powerful, lasting companies.
In addition, we hope to inspire women to pursue their passions in business. Starting a business is an incredibly brave and independent action, and women are rarely encouraged to be brave and independent, especially financially. This is changing and we're hoping our film helps accelerate that change. We want women of all ages, in school or in retirement or in between, to see our film and think "I can TOTALLY do that."
7. Any words of wisdom for young entrepreneurs?
Go out there, do your thing, don't let anything or anyone stop you. Sometimes you do need to bang your head into a wall long enough and it will turn into a door. Pick a few good sponsors and mentors to help you along the way, learn from others in the community as much as you can, but just keep doing it. Be aware that most of the time, you're just going to have to do it yourself, as painful or awkward or slow as that feels.
And most importantly, don't be afraid to fail. Anything successful gets that way by failing a huge number of times before it gets to success. The important thing is NOT to be right the first time; the important thing is to recognize failure and wrong turns, be flexible, and be responsive.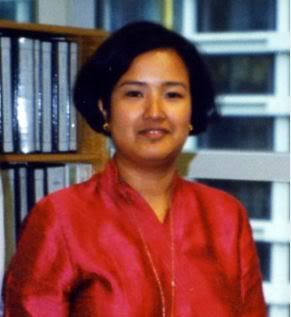 Jacqueline Baptist is an entrepreneur originally from Malaysia who migrated to the United States in late 1980's. Prior to starting her own business, Jackie worked in the high tech industry for the last eight years focusing on finance and marketing. She began her career in International Banking at the World Bank and has had the privilege to work extensively in the Middle East, East Asia, the Pacific Islands and Europe. The first project she worked on for the World Bank was a project to help young girls in Yemen gain access to education; hence women related issues are near and dear to her heart. She holds an MBA from the University of Chicago. Email: [email protected]
Image Credit: Shutterstock